We produce raw or finished aluminum bronze castings according to the customer's request.
Thanks to the long experience we have acquired, we are able to satisfy the most specialized needs of individual customers both as regards the use of particular alloys and the use of complex moldings, in bronze aluminum castings.
The alloys used for the Aluminum Bronze castings
Aluminum Bronze in its primary and secondary alloys:
CU-AL 88-9-3
CU-AL 81.11.4.4
ASTMB/A C95800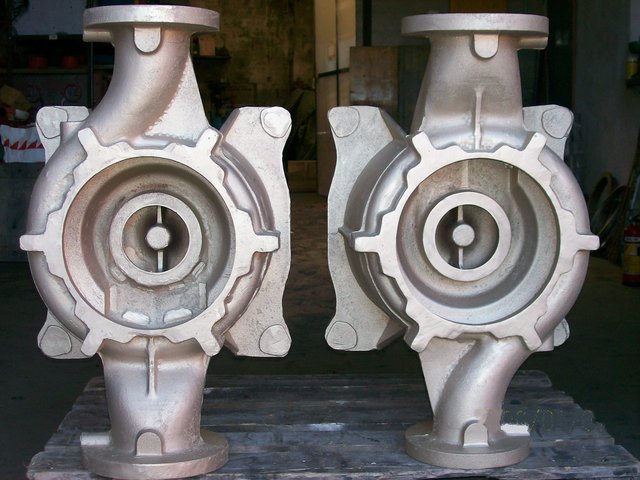 At the customer's request we are able to use other alloy castings The sectors in which we operate
The sectors in which we operate
–Transport: Naval, Railways, Marine Engine Design, Industrial Engine Design, Power Transmission, Agriculture.
– Food: in the production of parts for packaging machines, vacuum packing machines, oenological machines.
–Industrial: Civil and industrial heating, Gas, Oleodynamic, Hydraulic Sectors.
– Furniture: Urban Furniture, Civil Furniture, Lighting.
Guaranteeing a high quality of the products; we are competitive both on the national market and on the main European markets.
Supports; Crowns for gearboxes with torque limiter; Flanged nut screws; "T" nut screws; Bodies and covers for gearboxes in the nautical sector; Filters and pump bodies for naval, etc…. Water and air exchangers for shipbuilding, components for the railway sector (bushings and bearings with anti-friction white metal coating).
"Quality, on the creation of castings"
Total guarantees on our product
Our professionalism combined with experience and the most advanced technology in step with the evolution of the moment allow us to guarantee every aspect and every detail of the work done.
Interested in our services? We are here to help!
We want to know your needs precisely in order to provide you with the perfect solution. Describe your requests to us and we will do our best to help you.